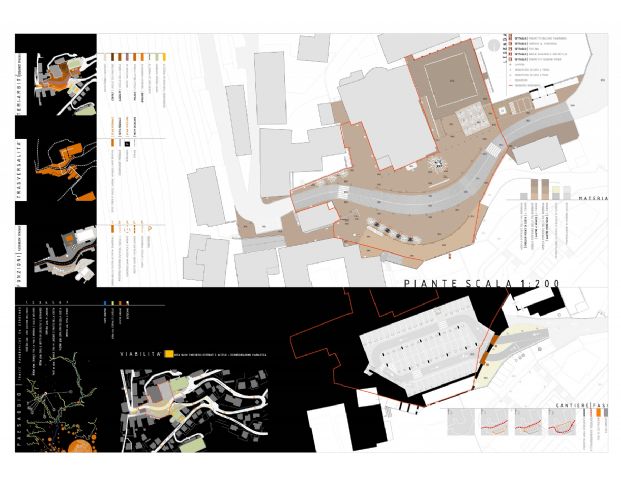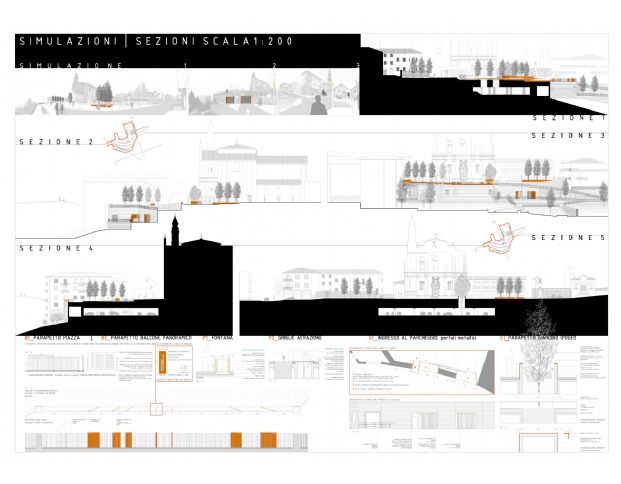 renovation of piazza roma
berbenno [bergamo] italy
urban design
2005
THE SQUARE, THE TERRACE, THE COURTYARD: PROJECT FOR PIAZZA ROMA BERBENNO
The project is based on a process of 'remodeling' the public space which starts from the deviation of the road crossing above the building block west of the church in order to regain pedestrian areas adjacent to the terrace outlook currently invaded by the street and create a new path that embraces the space. The configuration of the new curvileare form allows for the clear identification of complementary areas which are each characterized by its own spatial and existential significance: the church square, the plaza, the terrace, the oratory courtyard. The stone pavement materializes this homogeneous whole.
A new underground car park is made ​​accessible using existing switchbacks and terraces therfore avoiding the material and economic burden of open ramps in the square. Pathfinder elements, such as the railing with scenic panarama indicators and interchange areas with parking complete the project.
program
idea concepts competition for Piazza Roma in Berbenno (BG)
design
2005
design group
Sabrina Gallini, Simone Marchiorato, Chiara Martini, Lorenzo Rossetti, Simone Colombo, Gabriele Sposato
« Back to List